Welcome to Readylawn Dunedin
No matter what time of the year, with Readylawn, you can have a beautiful, healthy, lush lawn growing at your Dunedin home or business in a matter of hours.
Readylawn is sold and installed by turf experts across Dunedin from a team with experience, expertise, and local knowledge to ensure that your new lawn will grow lush and healthy. Our team takes pride in their product and will go the extra mile to ensure your lawn is a success.
Natural Lawn
Readylawn Dunedin for a beautiful, healthy, lush natural lawn and have grass growing at your home or business in a matter of hours in Dunedin NZ.
Read more
Artificial/Fake Lawn Installation Dunedin
Readylawn Synthetics have created the most real to life turf available in New Zealand. Not only does it look the part and add value to your Dunedin home it also feels like natural grass underfoot, all without impacting on your precious water consumption.
Whether you call it artificial, synthetic, fake or astroturf we can supply and install it for you. Read more
All you need to do is give us a call.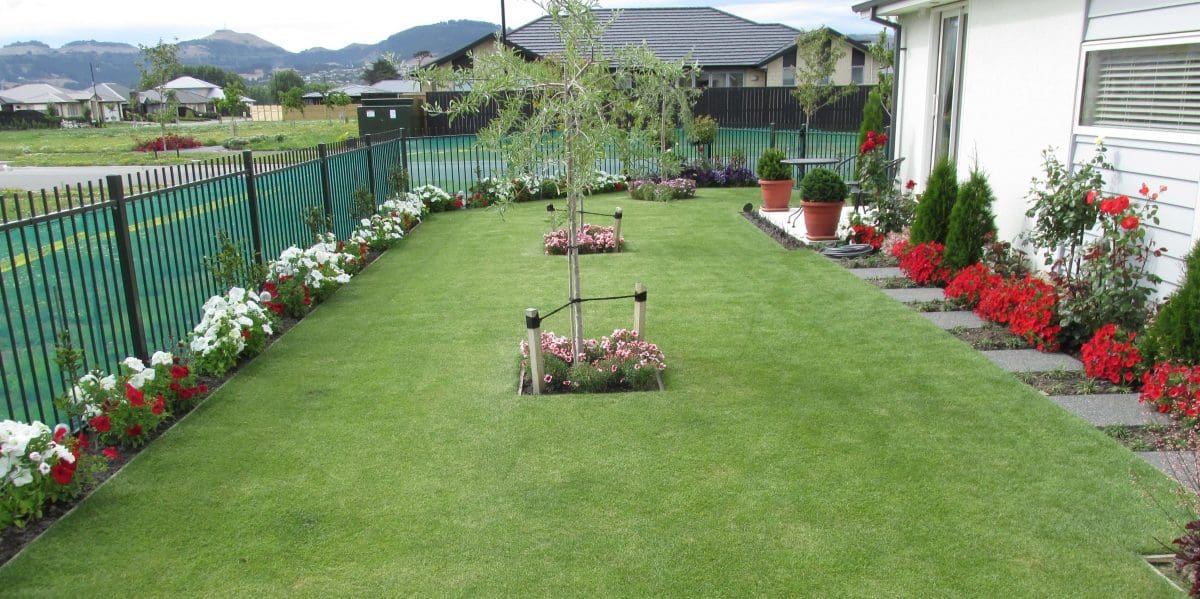 Location
Readylawn Dunedin
76 Huntly Road, 1 RD
Outram 9073
027 228 8190
027 4335 156
Email: [email protected]

Opening Hours
Mon – Fri: 8am – 4:30pm
ABOUT READYLAWN DUNEDIN
Readylawn Dunedin are trusted suppliers of instant lawn to landscapers, contractors, builders, homeowners and commercial developers, or anyone looking for fresh, strong grass.
We provide a full installation service and to keep your new lawn in peak condition and supply a great range of after-care products.
How to get there?
You can find us by turning off State Highway 87 at Outram.  It is best to call ahead so that we can better service your needs or have one of our Nelson team come out and give a free quote.
Products
WE SUPPLY A FULL RANGE OF READYLAWN PRODUCTS
Stadium – The back yard lawn
Our best hard-wearing natural grass lawn, which contains a fine-turf type Ryegrass.
Mow with a rotary or reel mower
Excellent wear resistance and damage repair
Perfect for high activity areas, kids and pets
Medium drought resistance
Perfect for sports grounds, berms, and creches
Why Readylawn Dunedin
Readylawn Has been Trusted in NZ For Over 50 Years

Natural Grass – 

We supply the original roll out lawn, so you can have a green, lush lawn that's guaranteed to perform. Beautiful healthy, lush lawn installed and growing at your home or business in a matter of hours.
Grass for Readylawn Dunedin is grown at our turf farm and all roll out lawns are harvested fresh from the field so your new lawn will not take long to establish itself. Our best hard-wearing lawn contains a fine-turf type Rye Grass.

Full range of Synthetic/artificial/fake lawn installation – 

the most real to life 

turf

 available in New Zealand. Readylawn is an exclusive supplier of synthetic artificial turf
Readylawn will give you lush, springy, green lawn within hours whatever option you choose
Full lawn installation service
Full range of grass after-care products
Extensive knowledge in different locations of soil conditions, seed mixes, bugs and weeds
Free on-site quote!
Super helpful and knowledgable. The grass looks great and they bent over backwards to get it delivered when I needed it. Couldn't be happier.
Let's Lay the groundwork

Say Hello!
If you have lawn problems or need a quote contact us below and we will get straight back to you.